We completely understand why so many people are moving to Vancouver Island, Sunshine Coast or Gulf Islands.
You have the proximity to the ocean, nature, and Canada's best year-round climates, with mild summers and mild winters.
With its laid-back atmosphere, a wide range of outdoor activities, and abundance of venues for art and music, it has something to offer to everyone.
Vancouver Island has it all if you're looking for a particular way of life.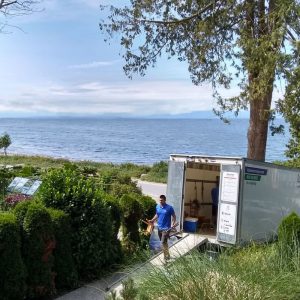 Here are the ways we can help you with your move: 
1) Get You Your Estimate
We'll conduct a virtual site visit with you to determine what time of services you need, confirm your moving dates, and get you your estimate! Be prepared to show us what you will be taking with you and what you will sell or donate or junk.
2) Book Your Ferries
Once you book with us, we will prepare your moving logistics. We will take care of booking the ferries for the trucks and movers.
We will do our best to stick to your schedule but sometimes ferry times may already be booked up so we will schedule the next best. 
3) Load Up Your Contents
Our standard to load up your contents a day or two before your official moving day. Because of the length of travel, we do not want to overwhelm you or our movers with trying to get everything done in one day. This would not coincide with our stress-free motto! 
4) Moving Day
We're ready to get onto the ferry and move your contents to your new home! We will be in touch with you to let you know that everything is right on schedule. Excited to see your new home! 
Kleiner Services & Moving make regular journeys to Vancouver Island, where we have had the pleasure of moving clients to Victoria, Nanaimo, Courtenay (the Comox Valley), and Campbell River, among other places.
Regardless of the kind of house, apartment, or building, we can help you make that move!
We are the best option for skilled and dependable moving services on Vancouver Island, whether you are relocating an apartment, a townhouse, or a home with numerous bedrooms to or from the island.
No matter where you are, even on Vancouver Island, we're here to help. Our goal is to make your visit to our website as pleasant as possible by offering you quick, efficient, and professional services.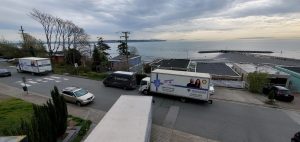 While you rest, our movers will take care of the hard lifting so you can enjoy your vacation. Our goal is to make moving into your new home or workplace as straightforward as possible for you and your family or employees.
Our all-inclusive pricing and services are a result of this policy.
You'll know exactly what to expect with a written estimate, and our hourly rate is locked down. So you can count on us to help you with everything from relocating your piano to packing.
The time it takes to and from the task location is included in the travel time we charge for when you hire us by the hour.
At Kleiner services, our goal is to make your move as stress-free as possible, and we know how difficult it may be to start over in a new place. So if you're a person, family, or company moving, we are here to help.