Storage is a great solution for times when moving day and possession dates don't line up.
Or you're undergoing a renovation and you need a place to store your belongings.
Or you just need to make more space in your home and need a place for your seasonal equipment.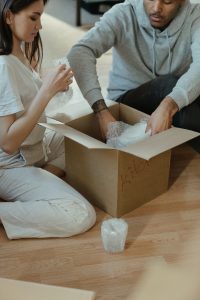 To ensure the safety and security of their items, clients need to know how to properly prepare and pack their products for storage.
Here are a few recommendations for preparing your belongings for storage:
1) Prepare a List / Label Your Boxes
You can either make a list beforehand or create your list as you're packing. Our suggestion is to write your list directly onto your box so you know what each box contains.
This way, if you need to pull it out of storage, you know exactly which box your item is in. If your storage contents do not fit into a box, create a spreadsheet or written list so you know what you are putting into storage.
Make a copy for your movers too! 
2) Is the Item Worth Storing
Take the time to consider what you're storing and consider how long you need storage for. Are those big items worth the amount you will be paying for storage?
Especially if you are going into long term storage, the cost of storage may be a lot more than that item is worth. Donating or selling or lending it to a friend is always an option!
3) Label and photograph furniture, electronics, and fragile items
Prepare by securing all drawers and doors on your furniture. If you are taking any furniture apart, label drawers, doors, and everything else you need to before disassembling the item so you can have a reference for when you reassemble it.
Or take a photo!
Take all the screws, nuts, bolts and place them into a  plastic bag or ziploc bag and tape back of the furniture. When packing electronics, snap a picture of the back so you remember where the cords go.
Also place your cords into a bag or box and secure them to the piece or label them accordingly. Remember to label any boxes or wrapped items as fragile so they get handled properly. 
4) No food and flammable items
Things like perishable food items and flammable products are not allowed to be put into storage because of safety and rodent concerns.
For a full list of hazardous items that cannot be on the moving trucks and storage, check out our blog: https://kleinerservices.com/non-movable-items-hazardous-materials/. 
5) Site Visit is Key
To determine how much storage you'll need, book a site visit with your local storage facility, like us! Regardless of how much storage or how long you need to store for, a chat to discuss your project is highly recommended.
Kleiner Moving & Storage is a full-service storage service.
What does that mean?
That means our team will come pick up your items and put them into storage for you. When you are ready to have your items returned, we will load them into our trucks and deliver them to you!
Have any more questions about your storage?
Check out more tips in our blog. Or reach out to us at 604-720-6650!